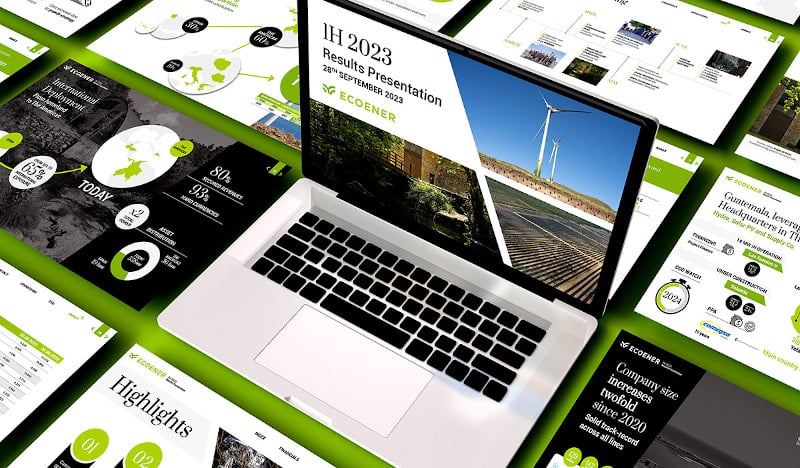 Financial communication for a publicly traded company
Categories:
Content
–
Design
–
Publications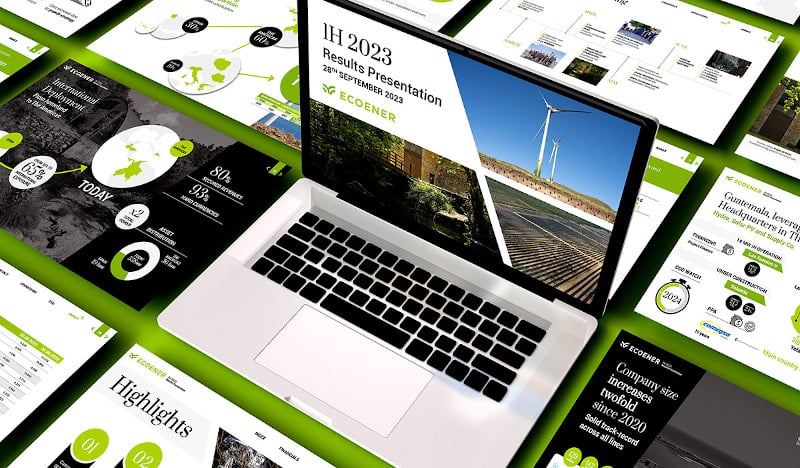 Presentation of results for the Ecoener Group
Ecoener is a publicly traded renewable energy company that builds and operates hydroelectric power plants, wind farms, and photovoltaic solar plants in Europe and Latin America. All this with the purpose of promoting sustainable development to preserve the environment and contribute to progress.
In 2021, the group joins the Spanish Continuous Market as part of its growth strategy in the clean energy sector, thus consolidating its commitment and long-term growth. Since then, it has been presenting results as part of its corporate transparency and accountability to its shareholders and the stock market.
The challenge
On the occasion of the presentation of results to investors and the National Securities Market Commission (CNMV), Ecoener approaches Bannister Global with the need to communicate its financial, operational, and ESG results with the following goals:
Impact stakeholders: shareholders and the financial community, human team, regulatory bodies, clients, suppliers, and society in general.
Convey a responsible and sustainable long-term business model, whose essential elements are strength and the creation of shared value (for its stakeholders).
Contribute to safeguarding corporate reputation in the countries where it operates.
Offer a clear and sustainable image of the group's activity, in line with its purpose and philosophy.
The solution
At Bannister Global, we addressed the challenge through strategic communication that reflected the group's financial results and effectively conveyed the purpose of the company's secure and profitable growth. We developed an intuitive, visual, and organized presentation, as we do every year. Under the principles of strategic communication, we managed to convey the business figures, the projects that will be part of the asset portfolio, and the milestones achieved in ESG (environmental, social, and governance).
A bilingual project (English and Spanish) where we coordinated with their communication and investor relations teams to communicate one of the company's major milestones: reaching 1GW in assets by 2025.
The results
The presentation of results not only met the client's expectations, but both the internal team and stakeholders highlighted its ability to convey the company's purpose and clear and elegant business information.
This project demonstrates that through strategic communication and design, it is possible to transform the challenges of financial communication into opportunities to highlight and strengthen the messages of a brand with its own philosophy.
How can we help you?
If you need assistance with your communication, marketing, and public relations projects, please contact our team and tell us about your challenges and needs.
Related projects